Here's the midge i posted a few weeks ago: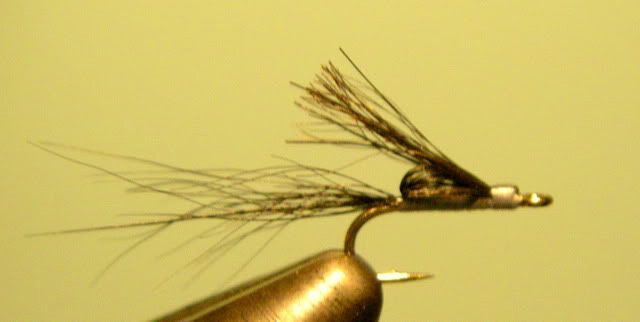 Hook: Daiichi Dry fly, size 20
Thread: UTC 70 denier, gray
Body, Tail, & Wing: Black Bear
Head: Thread
Clip a sparse bunch of bear hair at the hide. Clean out the underfur. (Save that for some nymphs!)
Tie in the hair bundle at about 3/4 point so you get the tail length you want, then tie the hair down back to the bend. Pull the butts back from the index point and secure them at the bend. Smoothly overwrap the body back to the index point.
Now pull the hair butts over the body and tie them down just in front of the index point.
Fold the hair butts back over the body as a wing, and wrap your thread back over the hair just enough to bind them down and create the thread head. Trim the butts to wing length.
Two materials - Thread and Black Bear hair. Sprung from my cabin-fevered mind.
Also, I'll second what Colin said. Makes a real nice streamer wing. Don't forget the underfur for nymph dubbing.
I'd second what Plumbob said, but I ain't advanced enough to tie real salmon flies yet.
Yer Pal,
Streamer