Yes, gentlemen, after a few weeks of struggling with thread(s), lead wire(s), copper wire, multiple types and shades of dubbing (dubbings?), different types and sizes of hooks, Krystal something (looks like a Christmas tree garland for pixies), semi-successful whip finishes, chain bead eyes, beads, dumbbells, chenille(s), Super Glue, multiple rum punches, and helpful suggestions from this forum's gurus, these exquisite creations are here for your viewing pleasure: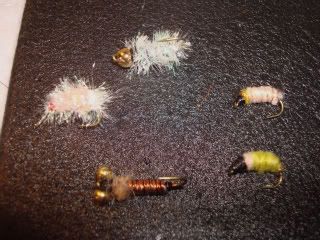 Clockwise from the top:
BHKSLWC (bead head, krystal something, lead wire, chenille) nymph.
2 CWR( copper wire ribbed) Czech nymphs
CC (copper Clouser). Can Clousers have bead chain eyes? If not, then this is a BCECPC (bead chain eyes, copper, pseudo Clouser. This jewel was "designed" as a quick sinking lead, top, first (pick a term) fly for a tandem rig.
KSLWC (Krystal something, lead wire, chenille) nymph.
The doc tells me I'm not supposed to be wading the streams until the New Year. Probably just as well; with flies like these the fish really don't have much of a chance.