Hey J,
Fly looks great, but here are some tips that will help fill the box quicker and make a cleaner fly.
The feather claws always look sick but just use a short tuft of marabou. About a 1/4 length of the hookshank. Fishes just as good and a heck of lot cheaper and more durable. Use the really fluffy stuff! Or grizzly marabou if you can find it cause its just sexy.
Leave the legs longer if you want, you can always cut them on the water if they are fouling. Another trick though. Tie them in at the very end right before you tie on the weedguard. Just in one clump 2 sets = 4 total legs. Doesn't look as realistic to you, but the fish don't give two fish poops and it saves a lot of headache at the vise. Or just leave them off all together redfish are sadistic enough to maul a legless crab
Lastly on the merkin body do it with a v-tie. By that I mean you are looking at the hook shank. Lay your material parallell to the hook side facing you. Lash it to the hook with 2 tight thread wraps. The fold the material (ep fibers are king) over the top of the hook shank to the other side of the hook. 4 threads wraps over the material to hold in place then build up a small dam in front of the material to lock it in. Eliminating figure 8 wraps takes MINUTES off of tying this style of fly. Here is a crude drawing and pictures
get it?
here is the rough body shape you are after with trimming and an example of the V-tie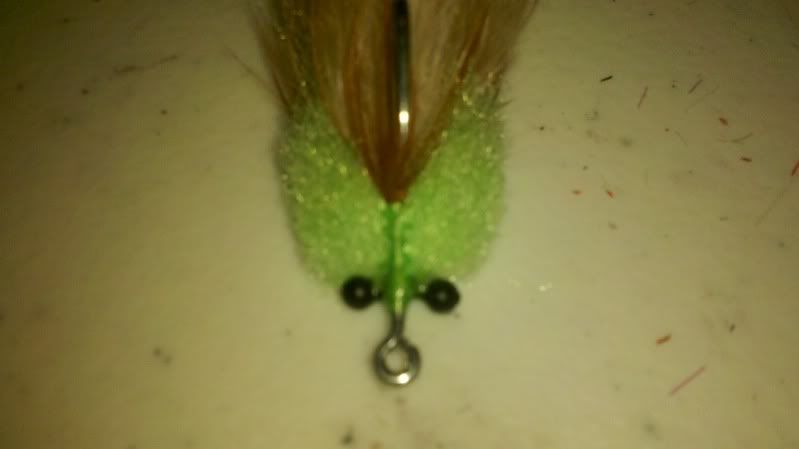 edit: please try and forget the color combination seen above...fish see it and try to steal it...no joke they will move 10ft out of their way to try and steal it. we just can't have it fall into the wrong hands