This past weekend, I teamed up with Chainsaw McGee, and we drove up to Somerset NJ to attend the International Fly Tying Symposium. This is the show that Plumbob used to tell us about that is all fly tying. No guide services, no rod manufacturers, no destination lodges, just fly tying. In size, though, the show covers at least as much floorspace as the Raleigh Fly Fishing show did, and maybe a bit more.
The main emphasis of the show are the demonstration fly tiers. Shoulder to shoulder at their fly tying benches, they take up fully 1/2 of the floor space. Scattered around though them are various vendors that sell fly tying supplies. Key for me are the booths run by Charlie Collins and Bill Keough. Both are chicken farmers that bring the best of their wares to this show, knowing that the pickiest fly tiers in the world will be there. There were 3 full service fly shops, with complete inventories of tools and materials. Unfortunately, Badger Creek (eFlyTier.com) is the only one I remember by name. In addition, there were a number of feather merchants, like FeathersMC, and specialty suppliers like Marc Pettijean, detteflies and Enrico Puglisi. One of my favorite stops was at Bill Keough's booth where he was sharing space with an English gent. who was selling a bunch of Gordon Griffiths tools and thread at $1 apiece. I think I bought more stuff from him than anyone else.
The tiers are just mind boggling. Modern creations to traditional 18th century reproductions. Full dress salmon flies to foam an "trash" flies. Tools, techniques and materials. Seminars running every few hours, and special classes with some of the art's best tiers and teachers.
Most of the time, I forgot that I had my camera with me, but I did take a few pictures:
Charlie Craven teaching techniques
Bob Lindquist demonstrating a chickabou softhackle
Fishey Fullum, with his lovely wife, doing his thing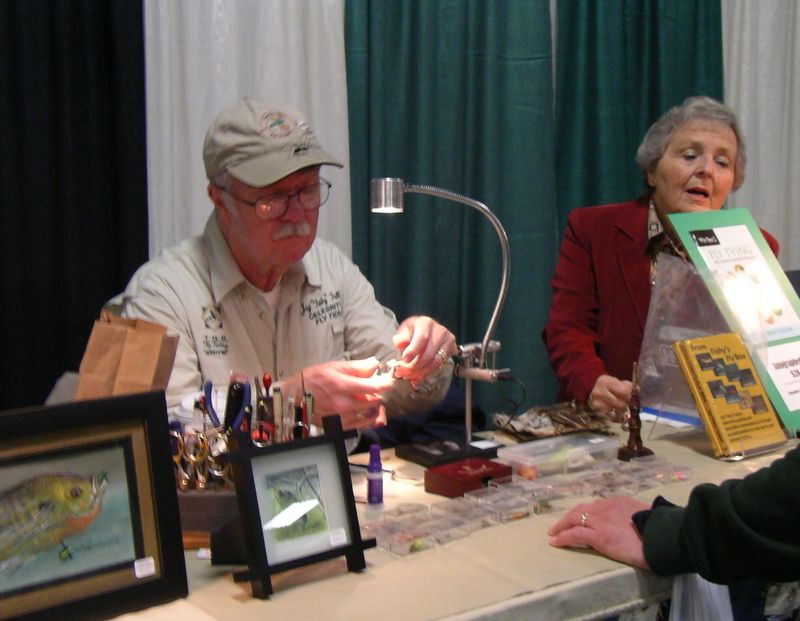 Stack Scoville working on a March Brown
Bob Clouser and Bob Clouser Jr.