Well.....I got home over the weekend.....And planned on taking a few of the "inventions" out for a trial run.....just my luck....the weather turned to crap....It barely got above 60 degrees....cold 30mph wind....overcast blah blah blah. I decided to go out anyway and at least see if they were indeed "weedless" The green popper peroformed really well....it travels thru the pads without hanging up (well ...it hung up once out of about 50 casts) keeping the rod tip down and drawing the line straight back seemed to be key. Got one small hit...short strike. I had also tied up a big "deadhead frog" which I never even tied on....and a couple of long hairworms with the hook attached to the rear and a small piece of foam to float the tail up.....they looked good in the water too.....but no fish.....wind was a bitch trying to keep the boat in any one place long enough to cast and retrieve.
I finally gave up and made one lap around the pond with plastics ...caught a couple hand sized bluegill and maybe three small bass....they were pretty well shut down.
it turned out to be a pretty crappie weekend fishing wise.....these were hitting 2" white plastic grubs thrown aimlessly out in the deeper water.....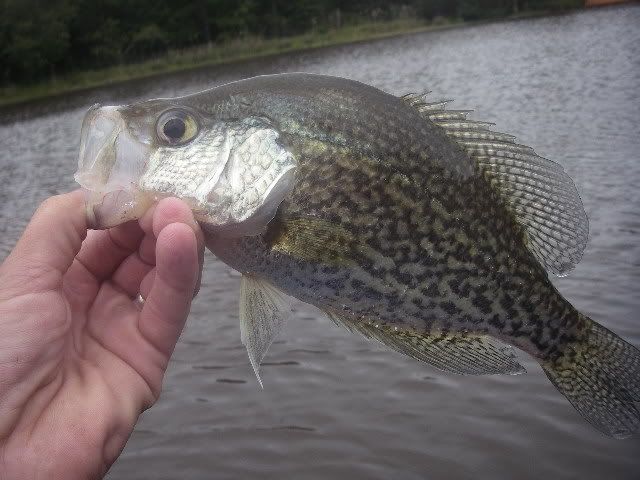 caught about 3 dozen.....till I gut hooked one and decided to keep a few to eat....would'nt ya know....that was the end of the bite
So the good news is....the flies seem to work for what I wanted.....bad news is....fall is here and the bass have apparently left the shallows
will be tying up some Dr. Death....and frying some crappie soon.

_________________


"The fish and I were both stunned and disbelieving to find ourselves connected by a line."

William Humphrey