The ponds finally thawed out at the at the NCWRC John E. Pechmann Fishing Education Center located in Fayetteville NC and we were able to hold the Wounded Warrior & NC Handicapped Sportsmen event on Wednesday, January 13, 2010. (We were forced to cancel our 1st basic clinic last weekend because of "hard water").
Turn out was sparse but by the time we moved to the ponds we had twenty participants, all of whom wanted to be the first to catch a trout in Fayetteville in 2010.
We started in the classroom with some basic orientation which also included hands-on fly tying instruction which has been a well received addition to our curriculum. In the past participants with Traumatic Brain Injury (TBI) have told us they like the mechanics of fly tying because it forces them to concentrate and at the same time use their hands to complete the various steps required in tying a fly.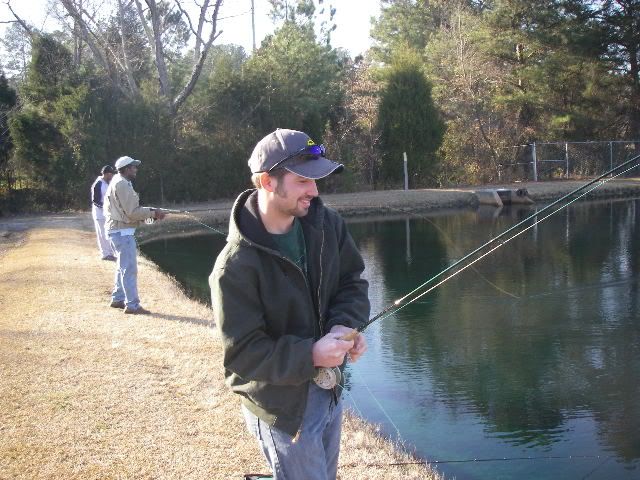 By the time I got to the ponds the "bite" was well under way. Lots of smiles and shouts of encouragement.
Some of the military had their spouses pick up the kids from school and meet them at the Center for a couple of hours of fishing fun. Bet this young fellow will be bragging to his classmates tomorrow..
We can't say enough good things about our volunteers. Without them the fly fishing program would not be possible. Once things settled down we allow our volunteers to try their luck. The novices often watch to see how the "experts" do it. Today they were not disappointed.
We are off to a good start. With a little luck the weather will warm a bit and ice will no longer be an issue. We still have two beginner clinics, one advanced clinic and the Boy Scout Merit Badge events for 2010. Beginner clinics are on Jan 23 and Feb 6. The advanced clinic will be conducted on Feb 20. Boy Scout merit badge clinics will be held on Mar 6 and Mar 20 . All dates are on a Saturday with a start time of 9:00am and end time of 3:30pm. Registration through Lake Rim Park (424-6134) began on December 1, 2009. The cost is $5. Pre-registration is required. The basic clinics fill very fast so pass this information along to all of your friends.
Our next Wounded Warrior & NCHCS event will be on February 10th from 1-5pm. (2nd Wednesday of each month)